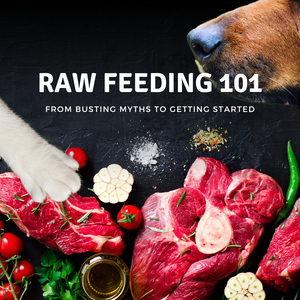 COMPLETE!
Raw Feeding 101 was broadcast live on Facebook and TikTok April 3rd to April 6th at 2pm til 3pm CST each day. The live videos have been uploaded to YouTube for future access.
By the end of this course, you will have a fundamental understanding of raw feeding for pets, including the benefits of fresh feeding, the myths associated with raw feeding, ways to safely handle and store your raw food and how to how to get started feeding a raw diet or just freshening your pet's bowl! You will also be able to follow along in your Raw Feeding 101 Workbook to capture easy steps you can implement right away. Upon completion of this course, you will have the knowledge and skills necessary to confidently and effectively start or improve a raw feeding regimen for your furry family. 
Did you miss the live class? You can watch the pre-recorded videos on the House of Paws Boutique YouTube channel!