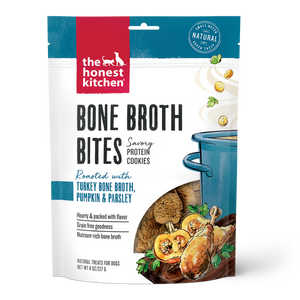 The Honest Kitchen believes that good dogs shouldn't settle for boring biscuits! That's why our Bone Broth Bites combine savory turkey bone broth with nutrient-rich pumpkin, carrots and a touch of parsley into one healthy bite. Each delicious little cookie is slow baked in small batches and packed with protein so your pup can snack smarter.
OUR PROMISE
No by-products
No preservatives
No corn, wheat, soy or GMO ingredients
The ingredients are non genetically modified and free of any chemicals & preservatives.
INGREDIENTS
Turkey bone broth, chickpeas, tapioca, carrots, honey, organic coconut oil, pumpkin, sweet potatoes, parsley, mixed tocopherols (a natural preservative)
NUTRITION INFO

% Protein
14.5
% Fat
9.5
% Fiber
2.5
% Moisture
10
*Per dry cup.
LIFE STAGE
 PUPPY
 ADULT
 ACTIVE ADULT
 LESS ACTIVE/SENIOR