Why Manuka Honey Should Be In Your Cupboard!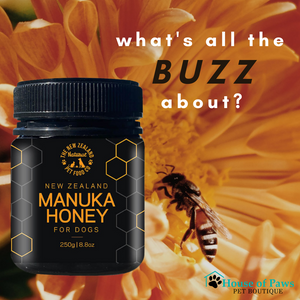 Does your furry family enjoy Manuka Honey and the amazing benefits it provides? 🍯
If your furry family hasn't enjoyed the sweet goodness of Manuka Honey, 𝒔𝒕𝒊𝒄𝒌 around and see why you want to! 🐝
Regular, raw, unpasteurized honey has medicinal properties healers have been aware of for thousands of years! The reason honey has healing properties is that it naturally contains hydrogen peroxide, which is a strong antiseptic! This gives honey the ability to heal both inside and outside of the body! 😲
You may be surprised to know, not all honey is created equal! Bees in New Zealand and Australia pollinate the small white flowers of the Manuka tree commonly known as the tea tree which is where we get Manuka Honey from. 🐝
With the proven power of Manuka over centuries, it's no surprise that Manuka honey is known as the golden healing honey! 🍯
Manuka Honey offers more protection against infection and disease than regular raw honey because of its powerful, naturally manufactured chemical components! 🧬 These naturally manufactured chemicals aren't used up as quickly in the healing process compared to other types of honey which only have hydrogen peroxide available as their main chemical defence. 👍
When Manuka Honey has been tested in the lab, it was found that it can successfully treat approximately 60 𝒔𝒑𝒆𝒄𝒊𝒆𝒔 𝒐𝒇 𝒃𝒂𝒄𝒕𝒆𝒓𝒊𝒂! 😲 This is huge in a world battling infections that are resistant to conventional drugs!
Here are three reasons you want to have Manuka Honey on hand for the furry guys and for you!
🍯 𝑴𝒊𝒏𝒐𝒓 𝑺𝒌𝒊𝒏 𝑾𝒐𝒖𝒏𝒅𝒔 - Once the wound is clean you can apply pure Manuka Honey directly on top of the wound and cover it with a clean bandage. You may have to distract your floof before applying the bandage as the honey won't have time to work its magic if they lick it off!
🍯 𝑰𝒕𝒄𝒉 & 𝑰𝒏𝒇𝒍𝒂𝒎𝒎𝒂𝒕𝒊𝒐𝒏 𝑺𝒑𝒐𝒕 𝑹𝒆𝒍𝒊𝒆𝒇 - Spread a small amount of Manuka Honey on the area of skin that's irritated. Doing this a few times each day will help soothe skin issues like hot spots for your floof. You can also give it orally to support the body's natural ability to restore healthy skin cells.
🍯 𝑺𝒐𝒓𝒆 𝑻𝒉𝒓𝒐𝒂𝒕 & 𝑲𝒆𝒏𝒏𝒆𝒍 𝑪𝒐𝒖𝒈𝒉 - because Manuka Honey is a natural prebiotic, it has serious immune boosting ability! It also offers a soothing property to help heal a scratchy or dry throat which can assist in helping a floof overcome kennel cough or the sore throat that goes with it!
Keep in mind, Manuka Honey does contain a high amount of natural sugars, meaning you shouldn't give it to any floofs with diabetes. You also don't want to give it to dogs under a year old because the bacteria in Manuka Honey may be too much for your young floof's developing immune system. Most adult dogs have no problems taking Manuka Honey orally and lap up the goodness it provides! 👍
How much golden healing honey should you give? Start with half of the dose below, increasing gradually 👇
🐝 1/2 tsp twice a day for a small floof – under 20 lbs
🐝 1 tsp twice a day for a medium floof – 20-60 lbs
🐝 2 tsp twice a day for a large floof – 60 lbs+
Once your floof has had time to adjust you can slowly increase to the full amounts recommended and can tailor this dose as their needs change. With so many amazing healing properties (we've only skimmed the surface here) there's no reason not to have Manuka Honey on hand to care for your floof's overall health and wellness! 💛