Caring for Senior Pet's Joint Health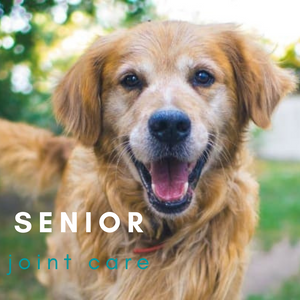 Though our furry family will always be our baby, they age and become little seniors just like us! Sometimes we can see the white fur in the muzzle area, or they may be a little slower to get moving, but that doesn't mean there aren't things we can do to help our furry little seniors! 💙
Just like with us, joint health can become noticeable as the furry guys get older. We definitely have options we can use to help reduce joint soreness for the furries! And because we only recommend human grade options, all of our products are not only great for the furries, they're good for us too! 👍
If we've got a furry guy who may be feeling their joints more than they use to, here are some fantastic ways we can provide some relief and care for their joints! 👇
🦴 Bone Broth is always a fantastic addition to any diet! It increases hydration, helps with skin and coat, detoxes the liver and helps with bones and joints due to the natural source of collagen!
🦪 Joint Power by
Super Snouts
is an amazing supplement made of 100% green lipid muscle and can not only help with joints, it can also help with muscles, tendons and ligaments to help with sore joints or muscles!
🦴 Jump for JOYnts by
The Adored Beast Apothecary
is an amazing natural option that can soothe sore joints and put the spring back in your pup's step. Jump for JOYnts also offers support for healthy joints, ligaments, tendons and muscles.
🥩 Raw or Fresh Food either incorporated into your current diet or switching to fresh diet from a highly processed diet will always help reduce inflammation and sooth sore joints!
🌱 Hemp products are known to provide relief for painful joints and come in a variety of options!
If you have a senior pet and are looking for ways to keep them happy and healthy in their golden years, we're always happy to help! 💙