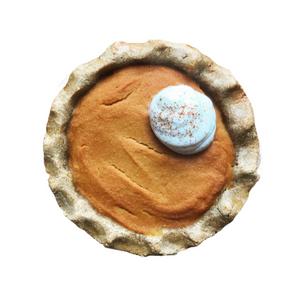 Introducing That Dog Mom Bake's homemade pumpkin pie for dogs - a delectable treat crafted with love and care, using only the highest quality ingredients to ensure a tail-wagging experience for your furry friend.
At That Dog Mom Bake's they understand the importance of providing your four-legged companion with wholesome and delicious treats. The homemade pumpkin pie is a testament to that commitment. Each slice of this pup-approved delight is a flavorful blend of nutritious ingredients, perfect for dogs of all sizes and breeds.
No preservatives, artificial flavors, or fillers are ever included in the homemade pumpkin pie. They believe in providing your pup with the very best, which is why they carefully select premium, human-grade ingredients.
Perfect as a special treat for birthdays, holidays, or just because, this homemade pumpkin pie for dogs is a wholesome indulgence that is as good for your dog's health as it is for their happiness. It's a fantastic way to celebrate your pup's loyalty and companionship.
INGREDIENTS: 
Crust: Oat Flour, Peanut Butter, Unsweetened Applesauce, Egg
Filling/Topping: Pure Pumpkin Puree, Plain Greek Yogurt, Oat Flour, Egg, Cinnamon