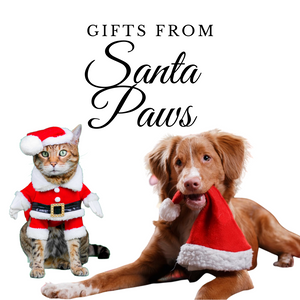 *Pre-orders placed between November 1st-30th will be available for pick-up December 1st*
Orders can be placed until December 20th. Any orders made on or after December 1st will get a phone call when their order is ready.
We will call you as soon as Santa's elves have packed up and wrapped your floof's Gift from Santa Paws. There were many, many good little floofs on Santa's list so please bear with us while we may need more than a day to fulfill orders.
For orders being shipped outside Regina, please order prior to December 10th to allow enough time to have the delivery arrive in time for Christmas. Gifts ordered after December 10th that require shipping may not arrive in time.
Pamper your floof with a gift straight from the North Pole, wrapped and addressed to the pet in your house from Santa Paws himself! Be just as surprised as your furkid Christmas morning when they open a gift just for them!
Choose the size of your pup or if you're spoiling a kitty and tell Santa Paws who the gift should be addressed to and if your pet has any allergies he should be aware of before packing up your pet's special Christmas gift!
Our Gifts from Santa Paws are filled to the brim with furry guy faves! All gifts for the puppers include a variety of products to pamper your floof on Christmas morning and have a value of over $135 worth of Christmas surprises for only $54.99! Kitty gifts have a value of $60 worth of goodies and are only $39.99!
Gifts come fully wrapped and addressed to your pet! You choose the option that suits your floof and your Christmas shopping and wrapping are done! Because we load these boxes up and sell them at a reduced price, our gift boxes are not eligible for additional discounts including our Pawbassador program.
Everyone deserves a special surprise from Santa Paws under the tree! This year, your pet's present will be a surprise to everyone until Christmas morning!
For orders placed as of December 1st, as soon as your Gift from Santa Paws is ready to go, we will contact you to let you know your gift is ready! Please ensure to include your phone number when you check out, so we know where to call you! Gifts from Santa Paws can be ordered until December 20th.